As with the scope of registration requirements above, QC requirements vary considerably from province to province. Items here are correct to the best of our knowledge as of August 2016.
ACI covers N.B., N.S., P.E.I., NFLD and Labrador, Yukon, N.W.T., and Nunavut.
"?" in the table indicates that we do not know at this time. (Our reference: PVE-4529).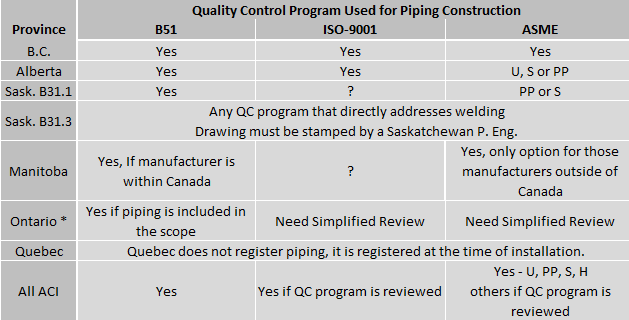 * Ontario requires a CSA-B51 certificate of compliance from Ontario or another province that specifically includes pressure piping in the scope.  Other non B51 pressure piping QC programs can be accepted after a simplified review process – see SB02-02 Rev 2.  If the manufacturer already holds an third party audited QC program then an on site audit is likely not required.  The best matching programs are reviewed in 4 hours minimum at $170/hour.  Other programs that require more work cost more.  Contact Michelle Newell at TSSA for more information. [email protected]
*** If you are going to do field work out of province, please contact the destination province in advance to make sure your QC program and welders certificates are acceptable. ***
To date piping systems do not have standardized stamping like vessels, so field inspectors can not tell if a system has been properly built and inspected without paperwork – the correct destination province's piping certification paperwork – signed by an authorized inspector in the cases where it is required.  An easy way of doing this is including copies of this paperwork with the shipment.  The correct paperwork will provide the field inspector with the proof of registration (the piping registration number is on the forms) and proof of construction and inspection against a standard – again it is on the forms.  Once the fieldwork is properly completed, the field inspector can sign off and allow the system to be used.