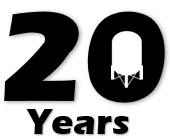 Pressure Vessel Engineering is celebrating 20 years of helping companies obtain CRN registrations and validating non-CRN pressure equipment designs.  Over the years we have registered thousands of vessels, boilers, heat exchangers, fittings, piping systems and other components that don't fall neatly into any categories.  In addition to registration projects, PVEng has also worked with companies to validate designs outside of the CRN system including high rise building piping, high pressure cyclic designs, breech lock closures and many others.
We would like to thank our many customers for working with us to help us expand our breadth of knowledge.  With your assistance we have been involved in a large variety of projects, and we are now involved with more than just CRN registration.  PVEng offers design services for all types of mechanical equipment using calculations, Finite Element Analysis (FEA) for fatigue, strain, buckling, seismic and thermal analysis as well as fluid dynamics and pipe stress analysis.  We will continue to develop and learn new skills to meet our customers changing needs. 
PVEng is a group of people working together with each other and our customers and vendors to accomplish a common goal.  We strive to build relationships with the jurisdictions across Canada to better understand how we can work together to make the registration process go as smoothly as possible, both for them and for our customers.  PVEng has also set up a number of partnerships to allow us to be a one stop shop.
Pressure Vessel Engineering wouldn't be where we are today without the people who made us who we are.  Thank you to all of the people who have worked with us over the last 20 years.
We look forward to working with you on your projects for the next 20 years and beyond!
Thank you,
The PVEng Team